FRIDAY:
11 am – Sarah Rankin, Masterchef 2022 finalist
12 pm – In conversation with Sarah Rankin – The Making Of A Masterchef Q + A
1 pm Neil Mugg – Perth College UHI
2 pm Jean Christophe Novell


SATURDAY:
11 am Jean Christophe Novelli
12 pm Praveen Kumar, Tabla Restaurant
1 pm Craig Jackson, Murrayshall
2 pm John More, baker, Johns Scone Mad
3 pm Jean Christophe Novelli

STOP AND EAT
A range of pop-up restaurants featuring taster dishes from some of the area's best loved eateries will allow visitors to buy and enjoy delicious local produce cooked to perfection as they relax in Perth Show's new POAP dining area.
Perthshire On A Plate serves up another success
Perthshire Chamber of Commerce served up another tasty success when they resurrected their annual Perthshire On A Plate (POAP) food festival for this year's comeback Perth Show.
The two-day event brought together food and drink producers from across the region to showcase and sell their products, as well as providing a platform for local chefs to demonstrate their skills.
Celebrity chefs Jean Christophe Novelli and Masterchef finalist Sarah Rankin from Kinross helped pull the crowds as thousands of visitors enjoyed the full programme of cookery demonstrations, producers' tastings and fine food and drink in the festival's popular pop-up restaurants dining area.
Reflecting on this year's success, Perthshire Chamber of Commerce Chief Executive Vicki Unite highlighted the support the event attracts from the business community.
"A food festival of this scale costs a lot to stage and it wouldn't be possible without the backing of several businesses and organisations," she said. "Their sponsorship or practical support allows us to put on a real showcase that everyone was thrilled to see return after a two-year Covid-imposed absence.
"As a Chamber, we realise the value of our food and drink industry to the local economy and are proud to stage an event which puts it in the spotlight."
Event co-organiser, journalist Maureen Young, said POAP had received excellent feedback from those involved.
"Our producers reported great sales with some having to put up 'Sold Out" signs on Saturday afternoon following brisk trade," she said.
"Our demo chefs attracted large audiences and thoroughly enjoyed taking centre stage along side our fabulous support team of tutors and students from Perth College UHI's Food Studies and Hospitality Department," added Maureen. "We're extremely grateful to chefs Craig Jackson, Neil Mugg, Praveen Kumar and baker John More for taking time to share their expertise in a series of top notch demos.
"And our weekend 'star' Jean Christophe Novelli claims this is one of the best-organised events he attends – and one of the friendliest and most welcoming – which is good to hear.
"It's a huge amount of work for those involved but well worth it when everyone leaves happy on the Saturday evening."
POAP has provided an extra dimension to Perth Show since 2016, allowing food production and farming to be celebrated side by side.
This year the Binn Group Perthshire On A Plate Trophy for best produce stand went to Johns Gone Mad with special runner-up mentions for Allan's Chilli Products and Val's Tablet.
Companies and organisations providing sponsorship and support to this year's Perthshire On A Plate include: Binn Group, Scotland Food and Drink, Perth College UHI, Fraser Bruce Group, Cairn Lodge Hotel in Auchterarder, Instant Image, Johns Scone Mad and Flonix.

Tasty tasty, very very tasty!
Perthshire On A Plate is back!
The city's leading food festival returns as part of Perth Show on Friday and Saturday, August 5 and 6, with a mouthwatering menu of cookery demonstrations, produce stands and pop-up restaurants showcasing the very best of Perthshire produce and culinary talent.
The event, organised by Perthshire Chamber of Commerce and supported by Binn Group, Perth College UHI and Scotland Food and Drink, has partnered with Perth Show since 2016, providing a stage for local and celebrity chefs and many of those involved in food and drink production across Perthshire.
`Vicki Unite, Chamber CEO, said they were looking forward to staging the first event for three years.
"The food and drink sector is a hugely important part of Perthshire's economy," she said,"and the Chamber is delighted to stage POAP 2022 to support and showcase chefs and producers as we emerge from a very difficult and testing few years.
"Hopefully people will enjoy all aspects of the food festival and the show in our comeback year which offers something for all tastes."
Bringing a touch of French flair to next week's event is Gallic TV favourite, multi-Michelin star chef Jean Christophe Novelli, who will delight audiences throughout the two days of the festival.
Hot from the screening of the latest ITV "Cooking With The Stars" series, Jean Christophe makes a welcome return to the POAP marquee, having last starred there in 2017.
Looking forward to returning to headline on both the Friday and Saturday, Jean Christophe Novelli said:
"It's always a great thrill for me to visit Scotland and I'm really looking forward to being back among friends at this terrific two-day festival of food and farming.
"Perth Show and Perthshire On A Plate really celebrate the district's wonderful food story – from field to fork – and I look forward to creating a few great recipes featuring delicious local produce."
Jean Christophe said he was also looking forward to meeting the talented local chefs and hard-working producers at the event and taking time to wander the Perth Show which has been at the heart of the local agricultural community for 160 years.
"Hopefully people will enjoy coming out of Covid restrictions and supporting sectors which have kept us fed during those difficult times – farmers, food producers and restaurants and cafes adapted to ensure a steady supply of food to the nation – and I can't wait to meet them and as many of the public as possible during my two days there.
"It's five years since I appeared at Perthshire On A Plate – I had a wonderful time – and I 'm delighted to be getting back among the Scots in beautiful Perth."
Kinross-based Masterchef 2022 finalist Sarah Rankin joins the POAP line-up on the Friday, helping to launch the festival at a special Chamber of Commerce breakfast at 10am before taking to the stage for a cookery demonstration at 11am.
Sarah will then tell the story of her Masterchef journey and the secrets behind the making of the popular BBC show at a special Q+A session at 12 noon.
The Scottish marketing consultant has lived in Kinross since coming home from California in 2006.
She attributes her skills to her mother and grandmother who were both great cooks.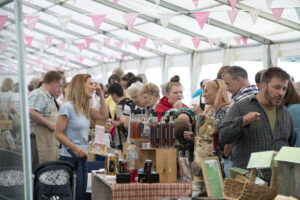 "I feel like they both still inspire the dishes I cook today in their own way," she said.
And backing up the local chef talent are Craig Jackson (Murrayshall), John More Johns Gone Mad), Neil Mugg (Perth College UHI) and Praveen Kumar (Tabla) in the hourly demonstrations throughout each day.
Entry to Perthshire On A Plate is free following paid entry to Perth Show.

Students' class act in support of POAP
Students at Perth College UHI's Food Studies and Hospitality department are again set to work alongside both celebrity and leading local chefs at this year's two day Perthshire On A Plate food and drink showcase.
Tutors and students play a pivotal role each year at the cookery theatre providing valuable support both on stage and behind the scenes.
Clive Lamb, lecturer in professional cookery at the college,  said around eight students at various levels of their studies had signed up to rub shoulders with some of the best in the business next week.
"We're all looking forward to getting out there again after a two-year break due to Covid restrictions," he said.
"These two days are inspiring for the students. Working alongside local chefs they know of and television personalities they see on screen is tremendous experience for them."
Students have worked alongside celebrities such as Rosemary Shraeger, Gino D'Acampo, Nick Nairn, Tony Singh, Phil Vickery
and Paul Rankin over the years – an exciting and rewarding experience.
"This provides added value to the College's practical skills training and offers experience that is invaluable in preparation for the workplace," said Clive.
Students Loraine McMillan and Eilidh MacInnes agreed it would be an exciting two days.
"We know it's hard work," they said, "but it's really exciting to see how these experienced and celebrity chefs work and pick up tips and ideas from them.
"To get a chance to chat and work with them is tremendous and we're really looking forward to it."
POAP co-organiser Maureen Young said the support from the college students had proved "invaluable" each year.
"We really couldn't manage without this amazing team," she said. "It would be impossible to deliver the festival at the high standard we do without their invaluable on-stage and behind-the-scenes support.
"Everyone involved from the College works tirelessly to support our featured chefs throughout the two-day festival and ensure a seamless first class demonstrations programme. Their professionalism, enthusiasm, obvious enjoyment and hard work is a reflection of the training they receive at Perth College UHI and we're delighted and extremely grateful to have them play a key role again in 2022."
Caption:
Lecturer Clive Lamb with students (from left) Lorraine McMillan, Eilidh MacInnes and Amy Ferguson are just some of the Perth College UHI support team looking forward to POAP 2022.