GUEST LOCAL CHEF
MASTERCHEF 2022 FINALIST
FRIDAY 11am and 12pm
------
Sarah Rankin is a Kinross resident who made it all the way to the MasterChef 2022 finals and is a lover of Scottish flavours and produce.
Passionate about real food, cooked simply, Sarah writes a food column for The Courier and is currently working on a cookbook.
A proud Highlander, she celebrates Scotland's Larder and its artisan producers, promoting Scottish ingredients in her regular chef demonstrations and food festival appearances. 
"I am delighted to be appearing at Perthshire on a Plate as part of the historic Perth Show," she said. "Being part of an institution that has served to celebrate rural communities, crafts and skills from Perth and beyond for 160 years is a true honour.
"I'm looking forward to cooking up some interesting dishes and inspiring visitors with produce and ingredients that celebrate Perthshire's Larder.  See you there!"

GUEST CHEF
FRIDAY 1pm
-----
Neil Mugg - Perth College UHI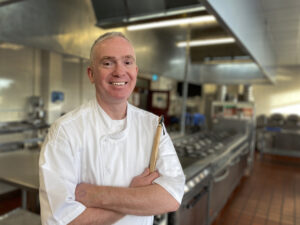 Neil has enjoyed a fantastic career working as a Chef in Scotland.
Starting on the west coast of Scotland in a country house hotel, he moved to Glasgow in 1990 to further his career in developing skills as a Pastry Chef whilst also studying at college.
During the time in Glasgow, Neil moved periodically and has worked in many places including the Triangle restaurant, One Devonshire Gardens and was the Head Pastry Chef at the Hilton Hotel.
Late in 2003, Neil relocated to Perthshire and worked at Gleneagles Hotel. Whilst there, after mentoring students in 2008, he took up a part time position at Perth College UHI and worked in both places until 2016.
In 2016 after leaving Gleneagles, Neil worked in three colleges across Scotland and is now happy in his role at Perth College UHI.
Neil enjoys cooking/ baking and has a keen interest in farming. He's currently studying teaching qualifications and enjoys learning new skills.

LOCAL CHEF
Saturday, 12pm
-----
PRAVEEN KUMAR - Tabla Restaurant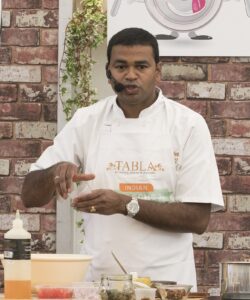 One of Scotland's leading Indian culinary talents, Praveen continues to grow his business which started with the highly successful Tabla fine dining Indian restaurant in Perth's South Street.
The multi-award-winning chef and entrepreneur has since established a cookery school attracting members of the public from all across the UK and a ready meals retail offering which now sells in more than 200 outlets throughout Scotland, with plans to access a further 200 outlets by the end of the year.
Praveen also runs the Curry Club which has 2,000 active members enjoying a curry box every month all across the UK.
A regular on stage at POAP, Praveen plans to use locally sourced game to create a Venison Keema Matter.
He will also have a ready meals produce stand and a pop-up restaurant where visitors to the Show can enjoy small dishes sampling the finest Indian cuisine.

GUEST CHEF
Saturday, 1pm
-----
CRAIG JACKSON - Murrayshall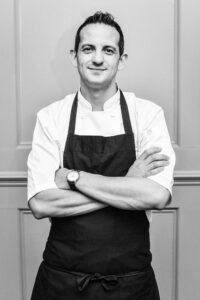 Craig has been head chef at Murrayshall Country Estate in Scone for 12 years.
"The produce we get to work with is great and we're constantly learning about new ingredients," he said.
"My favourite time of year is probably the end of summer and the start of autumn when you've still got all the good summer vegetables but the stone fruits are coming through along with all the wild mushrooms."
Craig and his team have ushered in Murrayshall's 2nd AA Rosette for their fine dining restuarant, Eòlas.
Gealic for experience, Eòlas showcases the very best of Scottish Highland Produce from our home, Scotland, and is situated on the west side of Murrayshall making the most of the Perthshire landscape – the perfect place to enjoy some stunning sunsets.

LOCAL CHEF
Saturday, 2pm
-----
JOHN MORE - Johns Scone Mad
Talented Perth baker John More enjoys an enviable reputation as creator of some of the most delicious and innovative scone products available today.
From his Johns Scone Mad company bakery in Bridge of Earn, the personable baker supplies a wide variety of products with his latest Sconzones (a scone equivalent of Calzone) and Scones of Destiny (to mark the historic stone's forthcoming arrival to its new home in Perth) attracting widespread acclaim.
John is passionate about supporting fellow local artisans and incorporates Perthshire produce in his popular scones wherever possible, offering an ever-evolving range from savoury to sweet.
For Perthshire On A Plate, John will be demonstrating a selection of canapés, as well as offering his full range of products on a trade stand within the food marquee.
John is also providing a giant Scone of Destiny for Jean Christophe Novelli and Sarah Rankin to cut to mark the launch of this year's festival at a breakfast event on Friday.